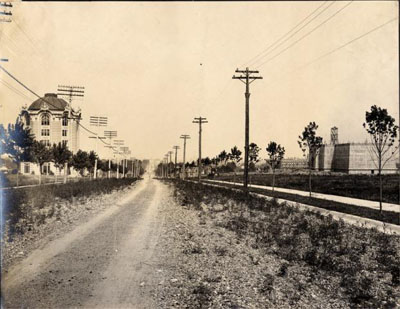 Delmar Boulevard, 1906
Edward Gardner Lewis, founder of University City, was the publisher of the Winner (1899, renamed the Woman's Magazine in late 1902) the Woman's Farm Journal (1901), the Woman's National Daily (1906), Beautiful Homes (1909), Palette and Bench (1909), the St. Louis Star (1909) and the Woman's National Weekly (1911). While his earliest publications used limited original photographs, their use became more prominent and more frequent with the development of University City. In addition to appearing in his subscription based publications, photographs appeared in all materials used to promote his real estate and business ventures, as well as the American Woman's League and the American Woman's Republic.
He employed many local photographers, including Eugene Taylor who became a well known St. Louis area commercial photographer. Although many of the photographs have suffered some physical damage over the years, they are remarkable for their clarity and for the sites and events they depict.
About the Collection:
The University City Public Library Archives contains more than 5,000 photographs.
A large portion of the early University City photographs were taken by Lewis Publishing Company photographers for use in Edward Gardner Lewis' newspapers, magazines and promotional materials. A number of these were donated to the Library Archives by George Lewis, nephew of Edward Gardner Lewis, who saved them from destruction. Many have suffered damage from moisture, dirt and even insects. There is no standard size for these photographs, and many were hand cut and have no straight edges. Many have ragged or deteriorating edges and damaged corners though some were trimmed in early efforts to preserve them. Another early, and unfortunate, preservation effort was to laminate some of the more fragile ones. This lamination sometimes causes distortions in the scanned product.
But in spite of condition problems, these photographs are remarkable for their content and detail. No original negatives survive, but we believe they were large format and even glass plates.