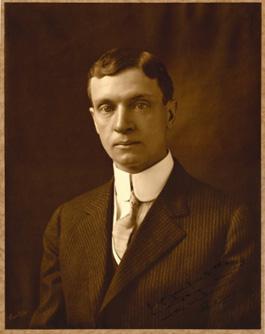 Edward Gardner Lewis
University City is a community rich in architectural, cultural and social history. From the earliest days of dirt roads and farming communities to today's culturally diverse residential, business, educational and entertainment districts, University City has lived the history of many inner ring suburbs.
These three digital collections tell parts of the story.
The Edward Gardner Lewis Collection includes 600 early photographs of University City and Mr. Lewis' enterprises. The American Woman's League and American Woman's Republic Collection includes some 25 documents and publications of these organizations founded by Mr. Lewis. Both were short-lived, but in their day they were forces to be reckoned with.
The Delmar Loop Photograph Collection includes 150 photographs of this dynamic 6-block district. Beginning with the earliest 1902 photograph, the collection includes many photographs of buildings and businesses that no longer exist. This collection will continue to grow as current photographs are added.